Auramarine Ltd. TURKU, Finland

Auramarine is the market leader in auxiliary unit production with over three decades of experience. We specialise in delivering fuel supply systems and other auxiliary units to customers whose requirements concerning work quality are the same as ours: top of the world. The market leader is a reliable partner also as a product supplier. We keep to the promised delivery times, and an experienced manufacturer is an excellent help also during the installation stage. We have plenty of experience in the use of the products, and similar installations can be found all over the world. Our clients are never alone in new situations: we offer our installation and maintenance expertise
AMB / 1000-7000 kW
AMB / 27000-50000 kW
CrystalBallast

unselect all/select all
You have 0 products selected
Ballast Water Treatment System
Send enquiry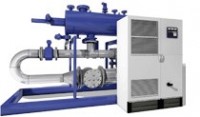 CrystalBallast uses high intensity medium pressure lamps to produce polychromatic UV output across the entire spectrum of the germicidal curve. Medium pressure lamps are considered to be the best solution for disinfecting poor quality water.
Heavy fuel oil supply units
Send enquiry
AMB heavy fuel oil supply unit for filtration, heating and pressurising of heavy fuel oil prior to injection into diesel engines.
Heavy fuel oil supply unit
Send enquiry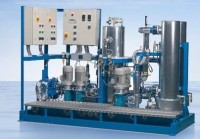 The series of marine AMB Mc heavy fuel oil supply units is developed to combine the proven accessibility and easy service of the AMB-M series with a more compact outfit to meet the increasing demands of minimising the space required.